Foot Pain Often Requires Glute and Core Strengthening 
As a foot specialist I spend a lot of time hearing about people's foot pain. I also am able to listen to their history and connect the dots to what may have resulted in a foot condition. To be honest, it is rarely just one thing, other than a direct blow or trauma, that results in foot pain conditions. Most of what I see is overuse injuries, and that can even be walking for extended periods of time. Doctors and nurses who spend long shifts on their feet are no stranger to foot pain.
Foot injuries can happen from repetitive overuse where some structures become weakened. Sometimes an old injury that was not completely rehabilitated can cause recalcitrant issues later down the road. The foot is directly related to the forces placed upon it. Weaker structures above the foot results in more impact on the foot.
The more and more I see, the more I realize everything in the body is connected. I have always been a practitioner of the philosophy where every body part has a relationship to another. The best way to explain this is if you only treat a painful area, you may not be targeting the original cause of the problem. That is why when I help treat foot pain, I like to encourage a well rounded treatment plan that also includes core and glute strengthening.
I was at Goodlife and it occurred to me the sign on the wall next to the glute machine stated something along the lines of "Glute strength, the most important muscle for athleticism".  This is so true! Our core and pelvis holds our centre of gravity, much of the pain and ailments related to the foot an ankle also has a relationship to the glutes and core.
Being a person who runs each day, I realized this more and more. Most of all the injuries happening to the feet are directly related ! Do not get me wrong, one still needs to strengthen the feet and rehab that area, however it is of most benefit when we also strengthen above the foot as well. So I wanted to share some tips on keeping your glutes and core strong to help prevent some injuries. Plus, isn't it a bonus to have a toned booty and core?
Planks
This includes side planks and front planks. The best form is when you squeeze your glutes together and attempt to keep you belly facing the wall, not twist up to the ceiling.
Donkey Kicks
These are great to isolate the glute muscles. Donkey kicks can be done lying flat on the floor or on all fours. This can be done with a theraband around your hips also. The gym does offer a push plate for better glute activation.
Glute Bridges
Again, it is always important to squeeze your glutes at the top. Attempt to hold this for 45 seconds. Marching or transitioning into a single legged glute bridge also makes this one more challenging.
Standing A
This one is easy to do anywhere! You can stand up in an A stance and squeeze your glute at the top . Holding only in the standing knee up position.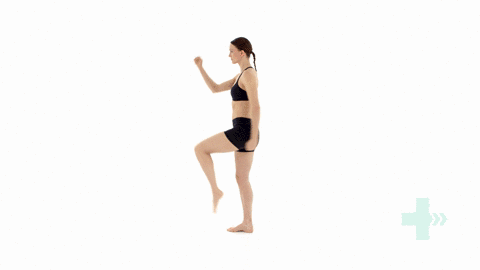 Single legged Squats
Stand up straight with your back and heels in contact with a wall. Take a small step forward on your leg to be exercised. This step should be around half to one foot distance away from the wall. You can easily incorporate this daily. When you attempt to sit down, slowly lower on one leg or add in a few reps before you sit!
Side steps with therabands
These are great to help activate pelvic stabilization when walking. People with weaker glutes tend to drop their hip when they walk, which can result in knee pain and also subsequent foot pain. Place a band around your ankles and gather some tension. Side-step keeping constant tension on the band. Make sure you do not bring your feet too close together and keep your toes and knees pointing forwards.
Strengthening should be done at least 2 times a week. You do not need a gym membership in order to do these basic strengthening exercises. You can do 10 minutes twice a week and it will still add up to help keep you healthy.
I encourage that prevention is the medicine .